Molli Bennett and Two Wheel View
Molli Bennett and Two Wheel View
2016-08-16 at 13:32 pm
Meet Patagonia Calgary Co-Manager Molli.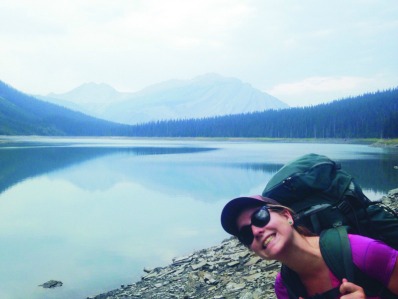 NAME: Molli Bennett
COMMUNITY ORGANIZATION OF CHOICE: Two Wheel View
MOLLI'S ROLE AT PATAGONIA CALGARY|BANFF|VICTORIA: Co-Manager at the Calgary store
WORKING AT PATAGONIA CALGARY|BANFF|VICTORIA SINCE: May 2015
WORKING WITH TWO WHEEL VIEW SINCE: October 2015
PERSONAL PASSIONS: Being outside (especially in the mountains), biking everywhere, hiking, spending time with family, and long dog walks.
What is Two Wheel View, for someone who has never heard of it before?
It's a Calgary-based non-profit that uses bike culture as a tool to teach life skills, self-esteem and leadership to young people. They change kids' lives from the seat of a bike. Kids in the programs learn basic bike mechanics and, through the sense of empowerment that comes along with learning a new skill, they become more intentional and independent in the way they approach the rest of their lives. The bike is Two Wheel View's chosen method, but it's really about the experience of what learning about and riding bikes does for them personally, expanding their boundaries and abilities so that they can apply that learning to the rest of life.
What inspired you to get involved with volunteering for Two Wheel View?
I have always tried my best to intentionally choose biking over driving as a means to get around, so I already had an interest in and had learned some basic bike mechanic skills. A friend I met when I was doing my Bachelor of Applied EcoTourism and Outdoor Leadership at MRU (Mount Royal University) suggested I check out TWV and I just instantly felt like I fit right into the organization's values and culture, and that I could share and develop my knowledge about bikes.
What are some of the activities you have been involved with?
I've done three "Earn-A-Bike" sessions so far. This is TWV's signature program where we teach kids basic bike mechanics. At the end of the eight-weeks they receive a used bike that has been rebuilt and donated to the program, which they are always really excited about. Beyond that involvement, I'm also working towards doing a bike tour with the organization this summer.
What is one of the most touching or inspirational moments you've experienced while working with TWV?
One of the most powerful moments I witnessed was at a junior high school where there was a youth who we had been told (by his teachers) was having a tougher time at home. They were having a hard time with his attendance, but "Earn-A-Bike" was getting him to come to school. He spent a lot of time in the program goofing around, but his being there was considered a success because he was making the effort to come out every week. During appreciation circle on one of the last days of the program, this boy was the first person to raise his hand and say something very positive and kind about his experience. It can sometimes be hard to know if the kids are taking anything away from the programs, but this was a good sign, a chance to see it. It seemed like this program helped him reconnect with his school.
What are some lessons or new skills you learned by being involved with this organization that you can apply to your work at Patagonia Calgary|Banff|Victoria?
Being involved with TWV has taught me greater patience, compassion, and leadership. I sometimes bring parts of my experience from TMV to Patagonia Calgary staff meetings, like exercises or ideas that build up our work community. Our workplace can be really fun and we intentionally do positive things that build each other up all the time through things like the opening circle at staff meetings, which are a lot like the appreciation circle at TWV.
What is your future plan for staying involved with the organization?
I plan to be as involved as I can, hopefully co-leading a bike-packing trip in partnership with Scouts Canada this summer, which includes mountain biking with gear, camping, and spending a week with the kids. Short term, I would like to continue to facilitate and do "Earn-A-Bike." This kind of work really fuels my happiness and I will stay involved in any way I can.
Are there any upcoming or ongoing events Two Wheel View is hosting where people can get involved?
There are so many ways to get involved, from volunteering to fix bikes, to booking a bike tour with your friends, to donating directly or hosting an "Earn-A-Bike" session. Following Two Wheel View's social media channels would be an easy way to help spread the word about the good things these guys are doing, too (links below).
Has Patagonia Calgary|Banff|Victoria had a direct role in supporting your efforts with TMV?
The Patagonia Calgary|Banff|Victoria team is super supportive of following our passions outside of work and we almost always give donations or support the events and organizations that matter to staff. I really appreciate the flexibility built into my work schedule that allows me to leave early on Mondays in order to be able to facilitate the TWV programs. From the top down, I think Patagonia Calgary|Banff|Victoria places genuine importance on finding the balance between work and giving back.
Find out more about Two Wheel View's upcoming events and programs by following their blog or joining them on: