Thomas Leharne and World Fisheries Trust
Thomas Leharne and World Fisheries Trust
2016-10-04 at 21:09 pm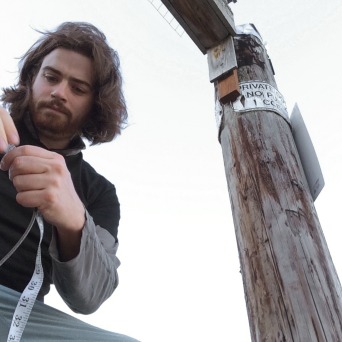 Photo: Thomas measuring water clarity on the Secchi disc.  
NAME: Thomas Leharne
COMMUNITY ORGANIZATION OF CHOICE: World Fisheries Trust
THOMAS' ROLE AT PATAGONIA CALGARY|BANFF|VICTORIA: Floor lead at the Patagonia Victoria store
WORKING AT PATAGONIA CALGARY|BANFF|VICTORIA SINCE: April ,2016
WORKING WITH TWO WHEEL VIEW SINCE: November, 2015
PERSONAL PASSIONS: Mountaineering and rock climbing new mountains and new routes, learning new things and being challenged. Thomas completed his bachelor's degree in Physical Geography and would love to go back to university to work towards a PhD with a focus on marine-based ecology.
What inspired you to get involved with volunteering for World Fisheries Trust?
I was inspired to join this organization mainly because it sounded incredibly interesting and fun. I had just moved to Victoria and I was bored of sitting in my apartment; the idea of doing field work conducting water quality measurements to monitor the health of an oyster I had never heard of sounded intriguing.
What are some of the activities you have been involved with?
I have predominantly been collecting data on water temperature, salinity, and clarity measurements in two locations in Victoria. This data is being collected in order to be published online for use by Victoria-based researchers in their studies. We are also using this data to try to understand what controls the population dynamics (size and health) of B.C.'s only endemic oyster, the endangered Olympia oyster. 
In addition to volunteering with World Fisheries Trust, I have also worked with the partner organization Sea Change planting eel grass, which creates and enhances important habitat for salmon in the Saanich Inlet.

What are some lessons or new skills you learned by being involved with World Fisheries Trust?
I didn't have much experience in marine science before I started volunteering with this organization. In fact, through my undergrad studies in physical geography, I was predominately interested in terrestrial ecology. This has all changed now since having learned so much about marine organisms and marine processes through volunteering. I'm actually really inspired to begin working towards a PhD that is more focussed on marine-based ecology.
Did you gain any skills that you might apply to your work at Patagonia Victoria?
Volunteering at the organization was my first experience coordinating an environmental project, so I got to learn about how to manage volunteers and organize meetings with people inside and outside the company, how to engage people in a project (though honestly I think I still have quite a bit to learn here). And I also learned a lot about how to manage my time to ensure that I can balance my volunteer work and working at the store…all while trying to maintain a social life!
If someone is interested in getting involved with World Fisheries Trust, how can they get involved?

They are always looking for volunteers, especially during the salmon run which happens every Fall. Volunteer opportunities are posted on their website under the "Get Involved" tab.
Photo: Gear used in performing a water clarity test. The black and white disc is a home made Secchi disc. The disc is thrown into the water and is lowered down until it can no longer be seen. The it is hauled up and the rope attached to the disc is measured to see how far it went down.
 
Find out about upcoming events and programs on the World Fisheries Trust website.
Become a sponsor or donate directly to the effort here.
For news and updates, be sure to follow them on:

Facebook