Patagonia Calgary|Banff|Victoria supports Friends of Kananaskis
GiveBackFriday Funds support Friends of Kananaskis
2017-05-16 at 12:37 pm
Friends of Kananaskis Country accepts Patagonia Calgary|Banff|Victoria's #GiveBackFriday campaign funds
On November 25th, 2016 — better known as Black Friday — Patagonia Calgary | Banff | Victoria had something a little different in mind. Rather than fostering the consumerism frenzy for which this day has become known, our #GiveBackFriday movement raised $5,846.00 by reserving 20 percent of our total in-store and online sales from the day to give back to local charities.
This year, we have chosen Friends of Kananaskis Country as one of two recipients of the #GiveBackFriday funds.
Friends of K-Country is based in Canmore, where active lifestyle, natural beauty, and commitment to sustainable ecology are second nature. The organization's efforts are focused on enhancing, protecting, and sharing the unique natural and cultural experiences of Kananaskis Country through public participation and environmental education.
"There is a great fit between Patagonia's environmental mandate and our mandate at Friends of K-Country. Our programs and the people that we connect with are also a lot of the same people, so working together really feels full circle," says Nancy Ouimet, program coordinator at Friends of Kananaskis Country.
Trail care programs are the core of the work done by "the Friends" and these programs have been in operation for more than 15 years. Volunteers typically help to build and maintain hiking, biking, cross-country skiing, and snowshoeing trails throughout Kananaskis. Thousands of people have contributed to these programs, and that will continue in 2017 thanks to caring donors and volunteers.
In the Spring of 2016, the organization also formed a group called the Canmore Trail Alliance in response to the Canmore community's expressed desire for more public engagement and volunteer stewardship of local trails. In its first season, the group engaged over 84 volunteers, with more than 158 turn outs and 28 trail events. Through partnership with land managers, recreational groups, clubs, businesses, and the community at large, the CTA found success by connecting people with the planning, design, construction and maintenance phases of trails in the Canmore area.
In addition to trail care programs, Friends of K-Country also holds an annual speaker series at the University of Calgary. The first session of 2017 will feature Barry Blanchard on January 12 speaking about how adventures in Kananaskis Country shaped his now-legendary life in the mountains. Keep your eyes on the Friends website for more upcoming dates and speakers.
"The essence of our efforts right now is in creating trail culture; giving people ways to give back to their trails to build a sense of ownership and connection to the landscape," says Ouimet.
"We have done some really meaningful work over the years, and we're always looking to broaden our Trail Stewardship scope. In 2017 I hope this could mean helping Alberta Parks with trail and visitation monitoring, trail inventorying and building a platform that allows for crowd sourcing of trail reports and making our website a true hub for local trail information. We also plan to refresh trail inventory signage and  host our annual Trails Fest event June 11, 2017 at the Canmore Nordic Centre which celebrates Kananaskis trails, people and Culture."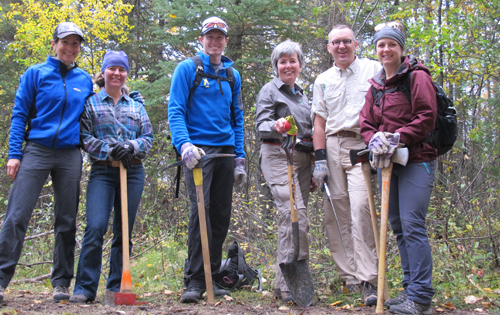 Friends of Kananaskis Country was also the recipient of the Patagonia Banff store's 1% for the Planet donation in 2015. We are excited to continue to work together to keep Kananaskis trails beautiful and safe.
______________________________________________________________
Are you keen to volunteer? Simply sign up on the Friends website: click here